Monte Alban Tour, Mezcal Factory, Alebrijes, Pottery Workshop
1 – Monte Albán Oaxaca, A Site Of Great Cultural Wealth
Monte Albán is an archaeological site located 10 km from the city of Oaxaca. It was named by the Zapotecs as "Dani Baá" or Sacred Mountain and, later, "Yucucui" or Cerro Verde, by the Mixtec indigenous people who inhabited it around the 12th century.
Archaeological site located 10 km from the city of Oaxaca, Mexico. It was the most important indigenous capital of the valleys region of Oaxaca during the so-called classic period (400–800 AD) when it was inhabited by the Zapotec culture.
As happened with several pre-Hispanic metropolises, Monte Albán was inhabited by more than one culture. The origin of the first inhabitants is a matter of debate, since archaeologists have not been able to specify it.
Later, the city was inhabited by the Zapotecs and, finally, by the Mixtecs. Furthermore, studying the architecture, specialists found that Monte Albán had contact with other cultures, mainly with the inhabitants of the powerful Teotihuacán, in central Mexico.
At Monte Albán, visitors can find three main structures, all with primarily ceremonial functions: the South Platform, the Large Ball Court, and the Danzantes building (or Building L).
The South Platform is a two-section construction and the tallest in the city; From there, you can see the rest of the site. The Big Ball Court is so called because next to Tomb 105 there is a similar but smaller structure.
And, finally, the Plaza de los Danzantes is a sui generis construction in which various stelae with calendrical and anthropomorphic glyphs stand out.
Monte Albán is a large archaeological site and constitutes the largest and most important ceremonial center of the Zapotec culture. It is located on a hill whose top was flattened by the first culture that inhabited it. Most of the existing temples and buildings belong to the time when the Zapotecs inhabited it.
2 -Mezcal Factory Tour
Enjoy this tour to learn about the wide variety of Mezcales, also create our combination suggested by a mezcalier to finally taste it.
Santiago Matatlán, a town known for being the capital of Mezcal, where we will begin to learn facts such as why mezcal is deeply rooted in Oaxacan culture, since it is present in various traditional celebrations. We will begin our tour by visiting two palenques where they make Mezcal with an ancestral process, that is, they produce it by hand. Although it is known that Mezcal is distilled from more than 20 types of Agave, now let's imagine the flavor of them made by hand, which is why we recommend being open to trying their wide variety of them to be able to identify the Mezcal that best delights our palate.
3 – Alebrijes Tour – San Antonino Arrazola Oaxaca
First of all, an alebrije is a Mexican craft made with the cardboard technique, it is a figure that combines physiognomic elements of several animals, whether real or imaginary, into one and are characterized by being painted in an infinite number of vibrant colors.
In Oaxaca, alebrijes are made of copal wood and are inspired by the idea of the nahuals, which are seen from two perspectives: a mythological or supernatural being with the ability to transform into an animal, as well as an element of nature. related to witchcraft; or the spiritual connection between a person and an animal, the latter being a protector and guide.
Currently, there are three communities in Mexico that specialize in the creation of carved wooden figures: San Antonino Arrazola, San Martín Tilcajete and La Unión Tejalapam.
4 -Black Mud Tour – San Bartolo Coyotepec Oaxaca
The manufacturing process of black clay has been carried out since BC. C., according to the inhabitants of these places. At that time, objects made of this material were created with earth, but they did not work very well. For example, if they were used as vessels to carry water, it would leak. To improve its hardness, artisans began to burn the clay over low heat in underground ovens with oak logs.
Black clay is considered one of the most popular and rigorous styles of pottery in Mexico. ​
The first pieces of this material were made in the Monte Albán period in matte grayish tones. Traces of this material for domestic use were also found in the Zapotec and Mixtec culture of the Central Valleys, which had more resistance.
Starting in the 20th century, the purpose of black clay became artistic and many artisans began to make innovative pieces with different cuts and shapes, as well as more shiny ones through polishing and burnishing techniques.
The outstanding black clay potters are found in the community of San Bartolo Coyotepec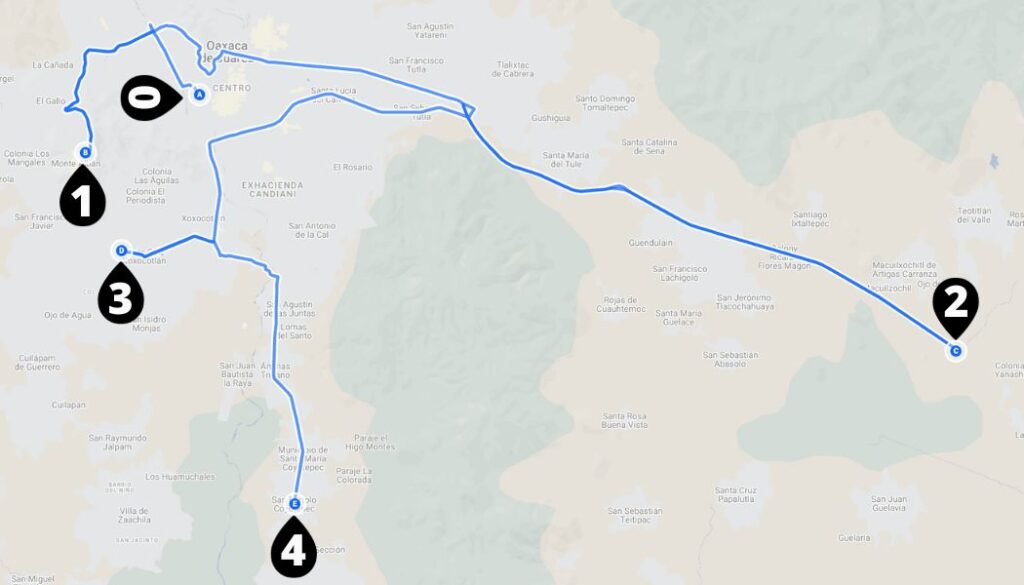 Does not include tickets and food
Wear comfortable clothes
It is recommended to wear comfortable shoes (you will walk 4km throughout the entire route)
Use sunblock
Towel and swimsuit (if you want to swim in boiling water)
Insect repellent
The group will be picked up between 7:30 and 8:20 in the morning at their accommodation in the historic center.
FIRST STOP
First we will go to the archaeological zone of Monte Albán, in Monte Albán the group has a guide included throughout the area
SECOND STOP
After this we will move to a mezcal factory where we will have an explanation about the process of making mezcal in the factory and then have a tasting of them.
THIRD STOP
After this we will visit an alebrijes workshop where you will learn about the craftsmanship of the residents of San Antonio Arrazola
FOURTH STOP
We move to a food buffet to have a meal time
FIFTH STOP
finalmente nos moveremos a la localidad de San Bartolo Coyotepec
END OF THE TOUR
At the end of the tour we will return to the city of Oaxaca and finish the tour one block from the city's Zócalo.
Note: Mitla is not open on Mondays.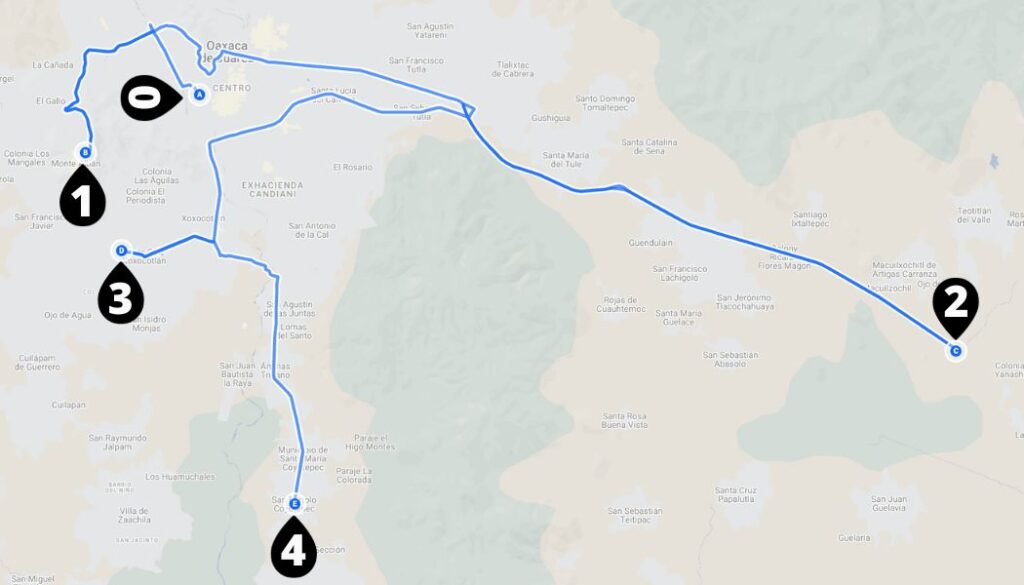 Does not include tickets and food
Wear comfortable clothes
It is recommended to wear comfortable shoes (you will walk 4km throughout the entire route)
Use sunblock
Towel and swimsuit (if you want to swim in boiling water)
Insect repellent
It was a great experience. Monte Albán was even more impressive than the photos show. And the craft shops afterwards were very interesting with many options for souvenirs!
An amazing host and driver! The host did a great job sharing the rich history of each location. They gave us 2 hours at Monte Alba, 1 hour or so at the mezcal tasting, and about 30 minutes for the other locations. I spent the whole day. The food was wonderful and I had a great time meeting new people who were also on the tour.
Excellent service! The tour was punctual and personalized. They made our first visit to Oaxaca an unforgettable experience. highly recommended.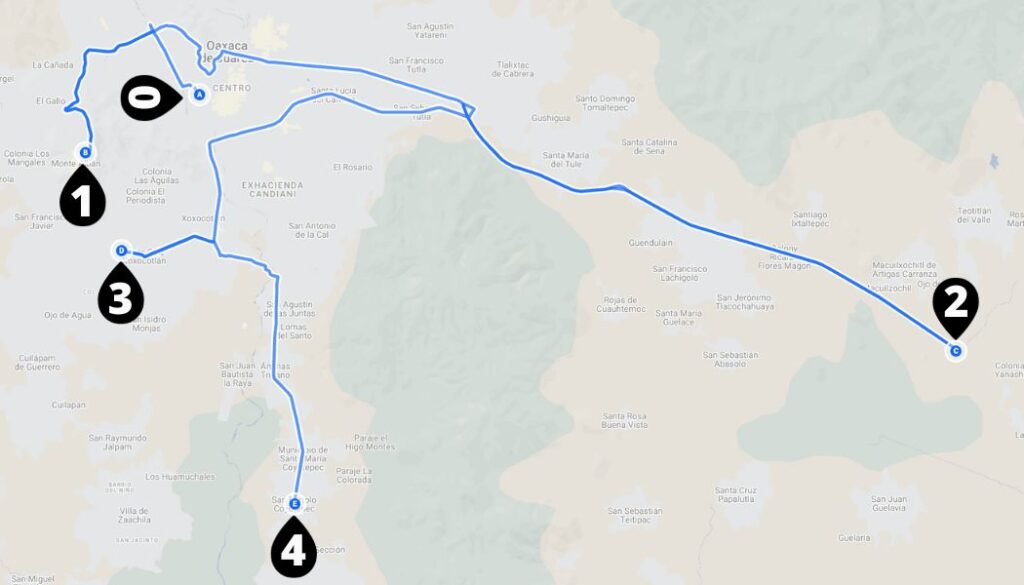 Does not include tickets and food
Wear comfortable clothes
It is recommended to wear comfortable shoes (you will walk 4km throughout the entire route)
Use sunblock
Towel and swimsuit (if you want to swim in boiling water)
Insect repellent